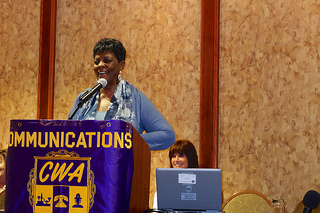 Delegates and guests from across District 7 met in Minneapolis August 18-21 for our annual Conference. Speakers included: CWA Chief of Staff Ron Collins Telecomm & Technologies Vice President Ralph Maly; TNG President Bernie Lunzer ; and CWA President Larry Cohen.

Workshops were held on: Health & Safety, Grievance Handling and Movement Building. Bargaining Unit meetings were also convened for: DEX; AT&T; AT&T Mobility; Public, Healthcare, and Education Workers; and Frontier, Verizon, and Windstream.

Conference participants joined with Minnesota activists for an anti-Trans Pacific Partnership rally held in downtown Minneapolis where Larry Cohen was a featured speaker.

Presentations from the District 7 Conference are available on the Local Officer site.
UNION INVOLVEMENT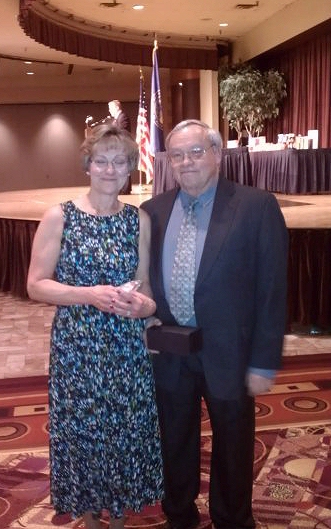 Larry has been involved in the Labor Movement since his birth. He is a 3rd Generation Unionist, his Grandfather, Will M Maupin was a Charter Member and the original President of the NE AFL‑CIO when it was formed in 1909 and a lifelong member of ITU, as was his son Richard M Maupin, Larry's father. Larry continues to carry on that Union Legacy he has been a member of ITU since he first started working for his father. ITU merged with CWA Local 7400, of which Larry, his wife Sharon and their entire Print Shop are members. Larry has been a dedicated Unionist for more than 50 years. Larry's print shop, the Unionist, is the only totally Union, AFL‑CIO Print Shop in Omaha.
COMMUNITY INVOLVEMENT
Larry has always been very involved in the Community. He has served as an active member, volunteering countless hours at the Benson Church of Christ 2704 No 58th Street in Omaha since he was a small boy. Larry has held many volunteer positions with his church and is currently serving as an Elder. He is also very active with the Douglas County Democratic Party, donating printing and time for many of their events. He is a past Central Committee Member and a current GEM Member. He also does many Community Sponsorships such as the Midwest Heart Connection and the Omaha Fire Fighters Memorial. He has also been active helping with school and sports activities his children were involved in while they were growing up.
AWARDS AND OTHER TYPES OF RECOGNITION
Larry and Sharon were recently awarded the Chairman's Award from the Douglas County Democratic Party at the 2013 Truman Dinner.
In 2004 he was awarded the Douglas County Democratic Party Special Recognition Award
In 2002 he was awarded the AFL Labor Partner Award
Larry has also received multiple other awards
CONTRIBUTIONS TO THE NEBRASKA LABOR MOVEMENT
Larry has spent limitless hours volunteering at the DCDP helping to get Labor Friendly candidates elected. He has donated to virtually every Labor Union in the State of Nebraska. He has spent his life providing affordable Union Products to help spread Union values across this state. Larry has provided confidential and trustworthy services to countless Labor Friendly Politicians for over 50 years. He has been a hard working member of a Labor Union since the day he first starting working for his father. Larry is also continuing to pass on his Union values and commitments to his children and his grandchildren.
ADDITIONAL COMMENTS
It is with Great Pride and Respect for Mr. Larry Maupin, that I nominate him for this very prestige's Award. Larry has been a committed Unionist understanding the value of the Labor Movement for working men and women. CWA Local 7400 feels very strongly that Larry truly has been an OUTSTANDING Labor Leader for not only our Local but for the entire state of Nebraska and deserves to be elected into the Nebraska State AFL‑CIO Labor Leaders Hall of Fame.
Opeiu #53
(Download this entire article by clicking here.)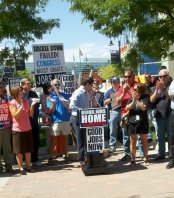 Avaya Inc is outsourcing Colorado Jobs. Outsourcing hurts families, students, homemakers, taxpayers, local business and our economy. Colorado taxpayers should not subsidize Avaya's profit margin, nor should they bear the burden of business failures, foreclosures, unemployment and higher taxes caused by outsourcing. A rally took place and you see the pictures by clicking below.
Please click here to see the Rally.
Click here to see the Commercial that CWA Local 7777 has been airing on CBS.
Call the Avaya CEO - 908-953-7300
Tell Avaya to keep our jobs in Colorado!
US CALL CENTER WORKER AND CONSUMER PROTECTION ACT (H.R. 3596)
BRING CALL CENTER JOBS HOME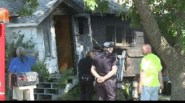 In a dramatic rescue yesterday, two Waukee police officers, one the Vice President of Local 7102, carried a woman to safety after she was trapped inside her burning home. While the family of the victim calls them heroes, the two officers say they were just doing their jobs. "We gotta go up town. The house blew up," says Shirley Petty.
Even 24 hours later, Petty still can't believe what happened. A gas leak sparked an explosion splitting the house that she rents to her son and daughter-in-law in half.
Officers Bill Daggett and Derrick Spoerry were first on the scene.

"This is a house that exploded so it could explode again. It's on fire and it's not structurally sound," says Daggett. Without hesitation, the two ran inside. Spoerry kicked the front door open.

"We yelled into the residence, 'Waukee police'. She had responded very faintly, 'help me, help me,'" says Spoerry.

Vice President
Bill Daggett, Local 7102
Tracy Petty couldn't make it out on her own and the officers couldn't see her in the thick smoke. Finding her was the longest 38 seconds of their lives and the three got out just in time.
There was that gut check like you know what we just did, we could've died. If it had been five seconds one way, we would've been in that entry - in that turn in the entry way coming in towards the door when all of that flash fired," says Daggett.
"They saved her life. She wouldn't have made it if they hadn't have been there," says Petty.
While the thanks is appreciated, the officers say it isn't necessary.
"I would rather it be my lieutenant having to explain to my wife why I'm not here or why I'm not in the hospital than having to live with I didn't go in the door and we didn't go get her," says Daggett.
"It's just our job. I'm pretty sure any other officer would have done the same in that situation," says Spoerry.
Tracy Petty agreed to talk to us, but later changed her mind. Her son says she is still in shock and the stress of what happened is too much for her right now. The Pettys are staying with family until they find a new place to live.
To watch a video and read more about this story, please go to: http://whotv.com/2012/05/23/risky-rescue-waukee-officers-carry-woman-to-safety/.