CWA Safety and Health Complaint Form
How to use the Report Form: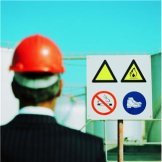 Fill in the all the blank spaces with the information that is requested. All the spaces need to be completed.
After completing the form, you will then press the submit button on the form. This will then send the completed form to your email address and to the Districtís Safety Chair. Please use your personal, or the unionís internet service and not the Companyís. After receiving this report you are to print it out and give it to your supervisor for correction. You can either save it in your computer or make a paper copy.
It is important that you put your supervisorís name and telephone number on the report. I will then take the report and check back with you to see if the safety issue has been corrected. If it hasnít been corrected, I will then contact your boss to find out the status of the situation.
Filling out and submitting the form will give the District a method of tracking the safety issues in the 14 states and also is a formal notice to the employer of a safety issue. If it is a legitimate safety issue and they ignore the situation then they are willfully violating OSHA law and the fine can be quite large.
Joe Gosiger,
District 7 Safety & Health Coordinator

Please click here to fill out and submit the form.
JG/jl
opeiu3, afl-cio